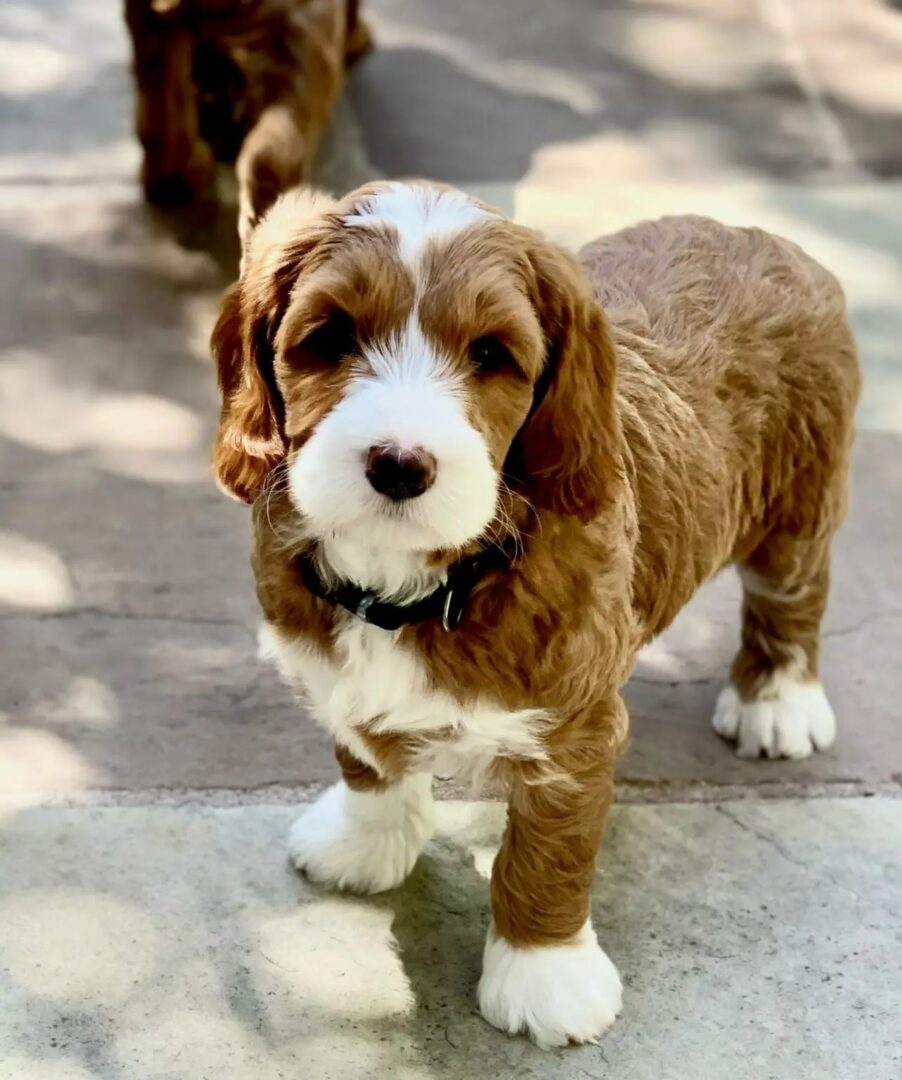 Genuine Australian labradoodle puppy breeder since 2004. Located in Monterey, California just two hours south of San Francisco. We are a small in-house breeder specializing in breeding miniature to medium labradoodles from the seeing eye dog Australian lines. We have many puppies in the Monterey Bay, Los Angeles, Santa Barbara, San Diego and Phoenix area. We do not ship our puppies but will meet new owners at the airport.
​We absolutely adore labradoodles and try our very best to breed for the betterment of the breed as a whole. We average four to five litters a year. This gives us the time to complete early neurological stimulation starting at three days and desensitizing to fireworks, thunderstorms, etc. starting at four weeks old. We give each litter and each puppy the love and attention it needs during those first irreplaceable eight weeks of your puppy's life. We take great responsibility in giving every puppy the best start in order to grow into a well-adjusted, highly socialized, and healthy member of your family for many years to come.
Our puppies are born in our bedroom, raised in our kitchen and get the best of care and lots of handling from their first day. We not only guarantee genetic health but also have very strict requirements for the temperaments of the breeding dogs in our program. Puppies are examined by a veterinarian, vaccinated, and micro chipped before going home.
About Australian Labradoodles...
Australian Labradoodles are beautiful, healthy, allergy and asthma friendly. They were originally bred to be service dogs and not a 'designer' pet. The Labradoodle breed started with a request over thirty years ago by a family needing a seeing eye dog but who also had a family member with asthma. Since Labradors are easily trained due to their willingness to please and poodles are intelligent, non-shedding, hypo-allergenic, and asthma/allergy friendly it seemed like the perfect match. After some research and years of breeding by leading service dog breeders, Tegan Park and Rutland Manor in Australia, the Australian Labradoodle was born. Our top goal is excellent health, fantastic temperament, and service qualities.
Just like any other breed that becomes popular, though, some breeders have started breeding for the popularity of these dogs and not for the benefit of the breed itself. So here's how to make sure you're getting the dog you want.
Researching
For Your Labradoodle
Chances are, in your research, you'll come across terms like "Multi-Gen" (Labradoodle and Australian Labradoodle), "Early-Gen" or "F1" (Labradoodle Origin) and "Back Cross" or "F1B". Here are some helpful tips to understand what a breeder means when they are using these phrases.
The multi-generation Australian Labradoodle, which is the original Labradoodle, has a foundation stock including six different parent breeds. These dogs were developed in Australia, and hence the "Australian" in the name of the dogs. The verified parent breeds by the ALA (Australian Labradoodle Association, Inc.) are: poodle (all three sizes), Labrador retriever, Irish water spaniel, curly coat retriever, American cocker spaniel and the English cocker spaniel. This was a breed that was developed with goals in mind for a low shedding service dog, not a designer dog.
The multi-generation Labradoodle has only poodle and lab in its heritage. It does not include the other parent breeds that were originally used by the creators of the breed. These have been primarily developed later in the U.S. and do not carry the Australian lines.
The early-genenation F1 is a dog from a Labrador retriever/poodle mating that has not had the multiple generations of Labradoodle mated with another Labradoodle, nor the addition of Australian Labradoodle foundation stock or multiple parent breeds. These dogs tend to shed their coat since they are more closely related to the Labrador and often have a wire hair look to them.
The "Back Cross" or "F1B" is a dog from an F1 (see above) mated back to a poodle usually for coat correction. These dogs have not had the multiple generations of Labradoodle mated with another Labradoodle nor the addition of Australian Labradoodle foundation stock or multiple parent breeds.